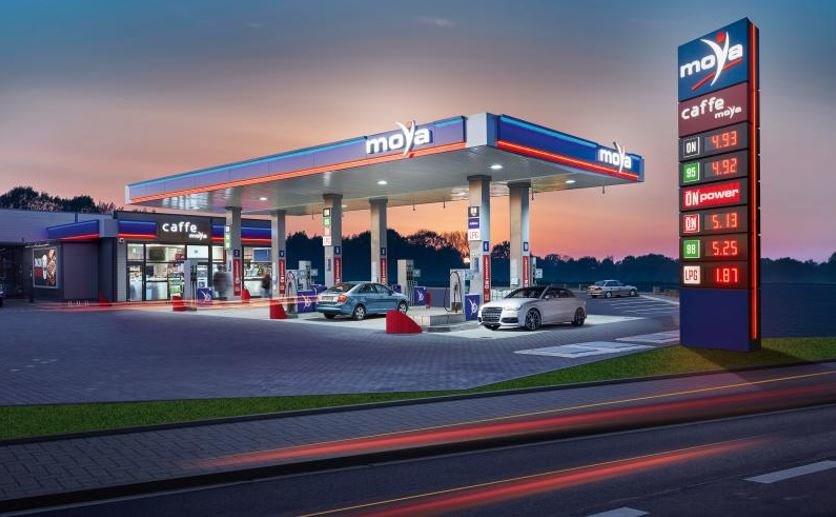 In the Małopolskie, Mazowieckie and Łódzkie voivodships, new MOYA petrol stations have been opened.
All points are serviced and have general stores and the Caffe MOYA gastronomic concept. Anwim, the owner of the network, is getting closer to the round number of 400 MOYA stations.
Anwim S.A. has accustomed the market to the fast pace at which new petrol stations are opening throughout Poland.
For several years, the company has been consistently implementing the strategy of dynamic development and is the largest independent operator of the petrol station network in Poland. The company takes care of standardizing the high level of service and fuel quality at all points under the MOYA brand.
The first of the new petrol stations was opened in Targowisko in the Malopolska Region. High-quality fuel, delicious coffee and snacks, a well-equipped shop are only part of the amenities for drivers.
MOYA petrol station is located on the national road No. 94, on the popular Tarnów-Kraków route. The convenient location of the point can also be used by drivers traveling on the nearby national road No. 75 and the A4 motorway.
The modern facility offers gasoline 95 and 98, standard and refined diesel fuel ON MOYA Power and LPG. The station has all the functionalities that meet the needs of customers who have at their disposal a well-equipped store and an atmospheric Caffe MOYA, where they can drink good coffee, eat a hot dog or other tasty sweet or salty snacks.
The station is also perfectly adapted to handle truck traffic and has many amenities, such as parking, driveway, quick diesel filler or dispensers with AdBlue liquid. Drivers also have a compressor and vacuum cleaner at their disposal.
Two more stations are located in the central part of the Polish. One in Krzywanice in the Mazowieckie Voivodeship, on the Warsaw-Bydgoszcz route (DK 10), and another in Wypychów in the Łódź Voivodeship (DW 483).
In both points you can refuel with gasoline 95 and 98, diesel and LPG, shop in a multi-branch store and take advantage of the attractive gastronomic offer. Truck drivers can also count on comfortable refuelling thanks to quick fuel fills, driveways and the availability of AdBlue.
---
---