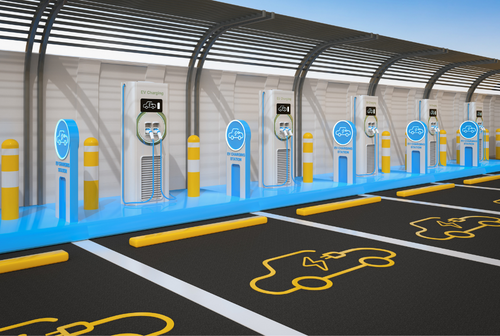 Sales of UK electric vehicles (EVs) overtook those of petrol cars last month for the first time.

Data published by the Society of Motor Manufacturers and Traders shows that 42,284 battery electric vehicles (BEV) were registered in December, compared with 42,091 petrol cars.
While the number of petrol cars registered during 2022 as a whole (682,473) significantly outstripped the 267,203 BEV registrations, that figure was higher than the 82,981 diesel cars registered during the year.
BEVs ended the year with 16.6% of the market in 2022, up from 11.6% a year earlier. Experts have warned that future EV demand could be stifled by slow progress on the rollout of charge points and future government policy.
RAC electric vehicle spokesman Simon Williams said: 'December was a landmark month as for the first time, electric vehicle registrations outperformed sales of new petrol cars.
Rather than being seen as a niche market, EVs are now on the verge of going mainstream with one-in-six of all new cars in 2022 being zero-tailpipe emissions – making them more popular than diesels.'
He added: 'However, we remain concerned that rapid and ultra-rapid charging infrastructure is not keeping up with demand.
Recent images of queues over the festive period at public charging stations could come back to haunt ministers if this ends up stifling demand because of perceived problems with the network.'
Mr Williams said cutting VAT on public chargepoints from 20% to 5% to match the amount levied on domestic electricity would also give the network 'a shot in the arm' in the face of rising electricity costs and would encourage operators to install more.
Professor ManMohan Sodhi of the Bayes Business School at the City of London University warned that the growth of EVs may stagnate considering possible government intervention in the form of taxes for EVs or slowing down the planned expansion of EV charging points.
Professor Sodhi said: 'That fact is that the Government is receiving continually reduced revenues from car sales. Therefore, there is a distinct possibility that they will impose taxes on electric cars and simultaneously slow down the rollout of the charging network infrastructure to collect taxes on non-electric cars.
'Both would dampen future electric car sales of either plug-in variety. But true hybrids will not be affected.'
---
---