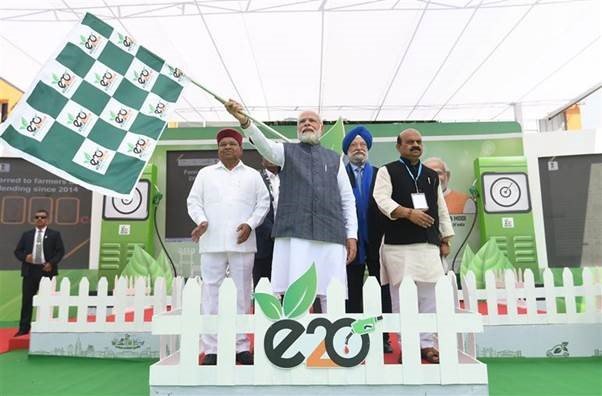 In line with the ethanol blending roadmap, India's Prime Minister launched E20 fuel at 84 retail outlets of oil marketing companies in 11 states/UTs.
E20 is a blend of 20% ethanol with petrol. The Government aims to achieve a complete 20% blending of ethanol by 2025, and HPCL and other oil marketing companies are setting up 2G-3G ethanol plants that will facilitate the progress.
Ethanol Blending programme has been a key focus areas of the Indian Government to achieve Aatmanirbharta in the field of energy. Due to the sustained efforts of the Government, Ethanol production capacity has seen a six times increase since 2013-14.
The achievements in the course of last eight years under under Ethanol Blending Program & Biofuels Program have not only augmented India's energy security but have also resulted in a host of other benefits including reduction of 318 Lakh Metric Tonnes of CO2 emissions and foreign exchange savings of around Rs 54,000 crore.
As a result, there has been payment of around Rs 81,800 crore towards ethanol supplies during 2014 to 2022 and transfer of more than Rs 49,000 crore to farmers.
---
---