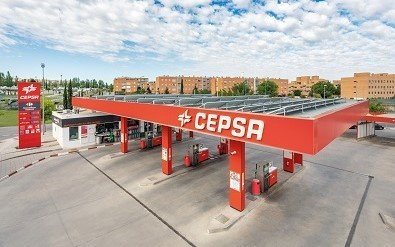 Cepsa is transforming its service stations, the second largest network in the Iberian Peninsula, into multi-mobility spaces offering a variety of energy solutions and catering services
More than 500 Cepsa service stations are now equipped with photovoltaic panels supplying renewable energy as part of a project developed with Redexis, which is responsible for the panels' installation, commissioning and maintenance. The move illustrates both companies' progress in the creation of the first global photovoltaic energy network at service stations in Europe.
In total, Cepsa's service stations have 12,000 high-tech photovoltaic panels with a production capacity of 10,000 MWh per year, equivalent to the annual energy consumption of 4,000 homes.
The installation of these panels prevents the annual emission of 3,500 tons of CO2, which is equivalent to planting 1,700 trees, thus contributing to Sustainable Development Goals 7 (affordable and clean energy) and 13 (climate action).
The panels supply Cepsa's service stations during the day and any surplus is fed into the distribution network, thus optimizing the facilities' overall energy efficiency and allowing 100% of the service station network to consume electricity from renewable sources.
Transforming the Cepsa network
Pierre-Yves Sachet, Director of Mobility & New Commerce said: "We continue to make progress in the transformation of our network with the aim of accelerating the energy transition and becoming leaders in sustainable mobility and energy in Spain and Portugal.
We want to offer our customers a range of solutions for sustainable mobility, as well as a pleasant and complete experience at our service stations, which we are turning into spaces for multi-mobility and ultra-convenience services."
Multi-mobility spaces
Cepsa's commitment to transform its service station network is part of its 2030 strategy, Positive Motion, through which the company aspires to be a benchmark in the energy transition and a leader in sustainable mobility and energy in the Iberian market during this decade.
In addition to the installation of photovoltaic panels, Cepsa is transforming its more than 1,800 service stations, located in strategic locations both in urban areas and across the main transportation corridors and hubs, into multi-mobility spaces.
These facilities, which are being digitized, will offer a wide variety of ultra-convenience and catering services, as well as different energy solutions.
---
---