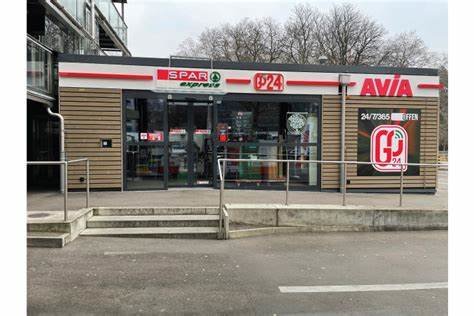 SPAR Switzerland and AVIA have opened the first 24/7 SPAR Express forecourt store operating without onsite personnel at Zurich's Sihlqui bus terminal. In addition to refuelling 24/7, customers can now also stock up on groceries, fresh snacks, and coffee at the same time.
Within three weeks, the store at Ausstellungsstrasse 10 in Zurich was converted into the first SPAR Express forecourt store operating without onsite personnel.
The 50m2 store offers about 1,000 products for everyday shopping including bread and bakery products, fruit and vegetables, dairy products, meat, drinks, basic food items, hygiene articles, and car accessories.
Access to the new 24/7 SPAR Express is made simple through innovative FAST aXs technology which allows customers to enter the store by scanning a QR code at the entrance with their smartphone and accepting the terms and conditions.
Customers do not need to download an app or register and the door can be opened by smartphone. The items are also scanned with the smartphone and payment is made by Twint, credit or debit card, or with Apple Pay or Google Pay.
The store is equipped with cameras and sensors. If customers have questions or face any challenges in the shopping process, information is provided online instantly and additional support is offered.
Sales in the SPAR Express are monitored via an app which ensures that the store is always replenished with fresh food. Customers purchasing fuel can pay at the AVIA petrol station with a fuel card, debit or credit card or cash.
For customers who are not familiar with QR code scanning, students were present instore to help in the first few days following the opening.
---
---