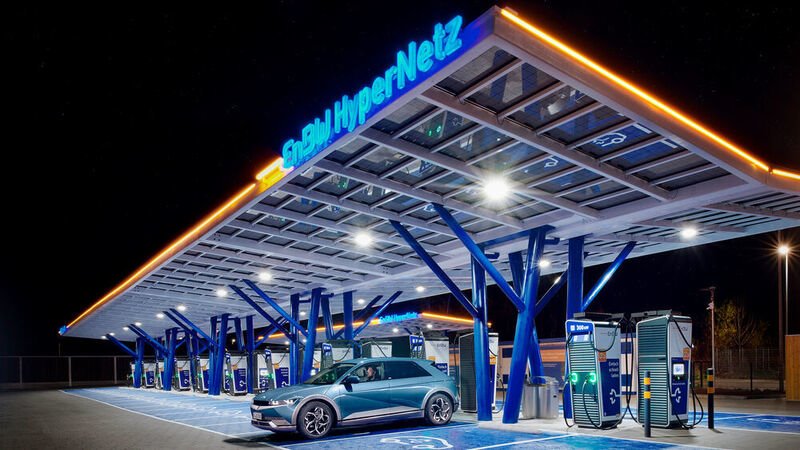 The expansion of the fast-charging infrastructure in Germany is progressing rapidly. EnBW operates the largest fast-charging network in both Germany and Austria. Drivers can currently charge at more than 800 EnBW fast-charging locations throughout Germany and further 200 locations are just waiting to be connected.
In the first quarter of 2023 an additional 250 additional EnBW fast-charging locations will come online. December 2022, saw EnBW building one of Germanys largest charging parks at a site near the Kamener Kreuz in North Rhine-Westphalia, Germany, accommodating up to 52 customers charging at the same time. Only the "Sortimo Innovation Park" on the A8 in Zusmarshausen, with 72 charging points and a charging park in Hilden, both in Germany, are built on a similar scale. These three locations are currently the largest in Europe.
Looking further ahead, this Baden Wuttenberg energy company is pursuing ambitious goals: By 2030, EnBW plan to operate over 30,000 fast-charging points, investing more than 100 million euros annually along the way. EnBW board member Colette Rückert-Hennen told erpecnewslive.com "Our ultimate goal at EnBW is to make e-mobility as comfortable and suitable for everyday use as possible for our customers,". Colette is responsible for e-mobility.
She explains: "That's why we rely on fast charging and the construction of our locations where the charging offer best suits people's everyday lives: on long-distance routes, for example. Here they can quickly charge new range during a short rest. Or conveniently while shopping at our retail locations. To this end, we are further expanding our fast-charging infrastructure and thus our position as the operator of Germany's largest fast-charging network. We operate our charging points with 100 percent green electricity."
Electromobility is an important part of the future of mobility. In order to achieve this future, electric vehicles need not only a range tailored to individual needs, but also the ability to recharge at fast-charging points with as little time as possible.
In addition to the new fast charging law of the federal government for the realization of more fast charging points and the GEIG law for domestic charging infrastructure, EnBW has also been in the e-offensive for several years.
EnBW actively promotes the expansion of fast-charging infrastructure
Government funding is good, but without the preparatory work of companies in the energy supply sector and car manufacturers, the charging infrastructure would not be where it is today. Above all, EnBW is in the middle of its fast-charging offensive and are already operators of the largest charging network, the EnBW HyperNetz, for charging points in Germany, Austria and Switzerland.
In the EnBW mobility+ app, it offers customers access to more than 300,000 charging points from various providers throughout Europe.
How is EnBW proceeding with the expansion?
Among other things, EnBW;s strategy consists of building state-of-the-art charging hubs with HPC charging stations with up to 300kW charging power. Fast-charging parks on long-distance routes and in inner-city conurbations enable several electric car drivers to charge vehicles with charging capacities of up to 300 kW in a short time at the same time.
With the right electric car, 100 kilometres of range can be refueled in five minutes. Long distances should therefore also be able to be mastered for medium and long-distance traffic without long delays in electric vehicles.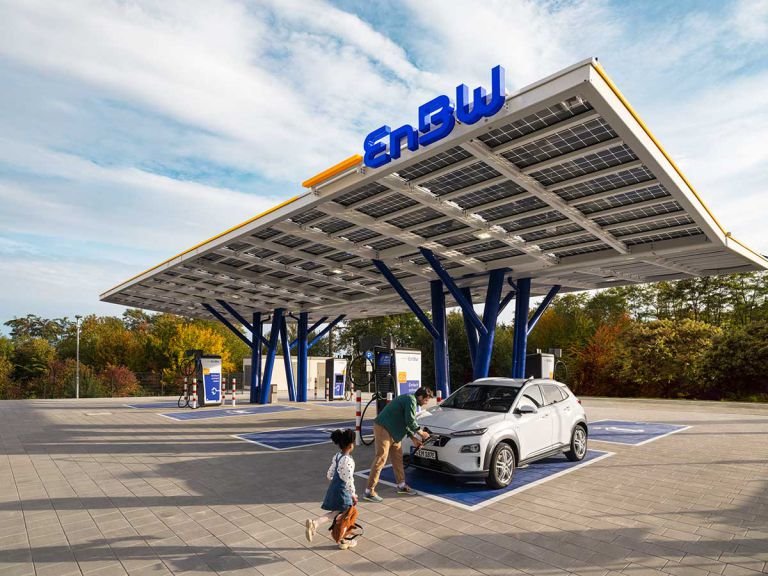 EnBW's fast-charging parks
With fast charging points with an output of 300kW, electric cars with suitable equipment can charge a range of 100 kilometres in five minutes
As part of the fast-charging initiative, EnBW are involved in various projects, such as the project "Urban fast-charging parks in Baden-Württemberg" and are investing 10 million euros in 16 fast-charging locations in 15 cities in Baden-Württemberg.
Another initiative was "SAFE", a project that was completed in 2019. Together with a total of 78 partners – various energy suppliers, municipal utilities and municipalities – ensured that there is at least one charging point in Baden-Württemberg in a grid of 10 x 10 kilometres and even a fast charging station every 20 kilometres. An effective means to prevent the so-called range anxiety.
For all the initiatives for the expansion of the fast-charging infrastructure that EnBW launches or supports, it cooperates with strong partners, such as local municipalities, the state of Baden-Württemberg, hagebau, dm, Tank & Rast, OMV, toom, the Hahn Group and many more.
They have recognized that the future belongs to e-mobility and that the customers of the future are also e-mobilists. In addition, it is always looking for new business partners who would like to join them in driving the expansion of the fast-charging network.
With the help of these partnerships, EnBW are also opening up more and more suitable locations: be it in a busy urban environment, where private e-car owners can recharge without their own parking space, on parking areas in front of shopping facilities or on heavily frequented highways.
HyperNetz expansion.
EnBW mobility+ is looking for people to participate in the EnBW HyperNetz expansion. It's quite simple: You own or know attractive plots of land, or areas in your region that are extremely suitable as a charging location? Then recommend your space to EnBW and contact them.
---
---