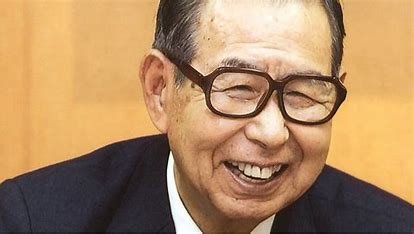 Japanese billionaire Masatoshi Ito, who helped turn 7-Eleven convenience stores into a global business empire, has died aged 98. He died last Friday from old age, operator Seven & i Holdings said in a statement.
"We would like to express our sincere gratitude to him for his kindness during his lifetime," the firm said. There are more than 83,000 7-Eleven stores around the world, with a quarter of them located in Japan.
In 1956, Mr Ito took over a small Tokyo apparel store business that had been run by his uncle then half-brother. Mr Ito later renamed it Ito-Yokado and turned the business into a chain of one-stop stores that sold everything from groceries to clothes. It went public in 1972.
Around the same time, an executive at Ito-Yokado, Toshifumi Suzuki, spotted a 7-Eleven store during a visit to the US. Ito-Yokado later forged a deal with 7-Eleven's owner – the US-based Southland Corporation – and opened Japan's first 7-Eleven in 1974. Mr Ito's firm moved to acquire a controlling stake in Southland Corporation in March 1990.
"I am frequently asked if I succeeded because of hard work or because I was just lucky. Actually the answer is some of both," Mr Ito said in an interview.
"I was fortunate to have started out in business right after the war – the same time that a broad-based consumer society was beginning to develop in Japan."
In 1992, Mr Ito resigned from his position at Ito-Yokado over alleged illegal payments made by three executives to yakuza gangsters to keep order at a shareholders' meeting.
Ito-Yokado was renamed Seven & i Holdings in 2005. The "i" in its name is a nod to Ito-Yokado and Mr Ito, who was the company's honorary chairman.
Mr Ito was also influenced by his friendship with Austrian-American management guru Peter Drucker.
"In the early years of his relationship with Dr Drucker, the two would connect in America or Japan and spend long evenings discussing the world economy, the Japanese economy, and the direction in which Mr Ito should be planning," according to the Drucker School of Management, that counts Mr Ito as a major donor.
Prof Drucker called Mr Ito "one of the world's outstanding entrepreneurs and business builders."
---
---