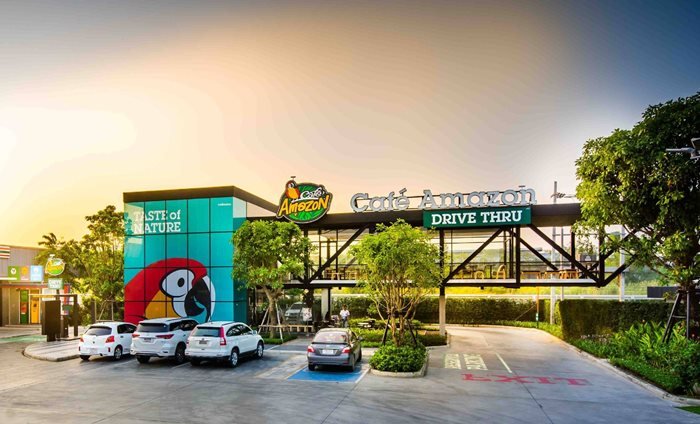 PTT Oil and Retail Business (PTTOR) has earmarked nearly half of its annual $900 investment budget to scale Café Amazon across Thailand and international markets this year.
Thailand's PTT Oil and Retail Business (PTTOR) will invest $412m to expand its Café Amazon footprint in 2023. The Bangkok-based oil and retail operator said it will focus on 'synergising' its petrol and 'lifestyle businesses' to open 400 new Café Amazon outlets globally, alongside 122 PTT petrol stations and 500 electric vehicle charging stations.
In a press release accompanying its 2022 financial results, PPTOR added that 16% of its investment budget will focus on expanding Café Amazon and PTT Station internationally, including potential new markets.
Founded in 2002, Café Amazon is Thailand's largest branded coffee chain with 3,900 stores predominantly located inside and alongside PTTOR's PTT Station footprint. The chain is also present in shopping centres and Bangkok's MRT and BTS transit networks.
PTTOR also operates more than 350 Café Amazon outlets across Cambodia, China, Japan, Laos, Malaysia, Myanmar, Oman, the Philippines, Saudi Arabia and Vietnam.
In October 2021, Café Amazon announced plans to reach 1,000 international stores by 2025.
PTTOR reported 54% group sales growth in 2022 to reach $22.8bn, following the strong recovery of post-pandemic domestic tourism.
The oil and retail operator's Lifestyle division, which comprises Café Amazon, fast food chain Texas Chicken, convenience store chain Jiffy and bubble tea franchise Pearly Tea, achieved annual sales of $612m.
PTTOR's Global division, which includes Café Amazon's international stores alongside the company's non-domestic petrol station sites, reported revenues of $1.5bn.
---
---