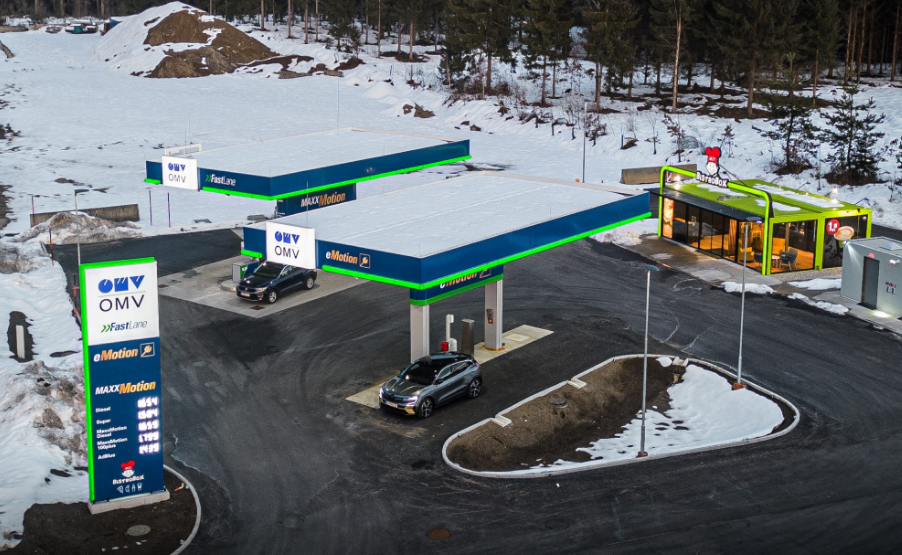 BistroBox has launched a new 24/7 Smart Store in Steyr, upper Austria. This completely digitized service station store allows for customers to grab a bite while they refuel their vehicles. The photo above shows a similar site operated by OMV.
The store's range has been expanded to more than 230 products in the new concept, and all processes from ordering and payment to preparation and withdrawal are fully automated.
Although the brand has long been offering snacks, drinks and coffee-to-go in addition to pizza, the product selection in the new 24/7 Smart Store has become significantly larger.
Drivers can buy fresh bread as well as ice cream, tobacco products, and car operating products at the 60 square meters store.
The focus is on simple purchase processing for customers, presenting the next major step on the road to full automation and digitization in the area of service station convenience.
"Everything is ordered on a large touch display and paid for by card or cell phone, after which the individual stations in the store deliver all the selected products fully automatically.
We are convinced that this is what the future of an innovative service station looks like, one that utilizes its full frequency, revenue and profit potential while also meeting global trends," explains Klaus Haberl, Managing Director at BistroBox.
The entire store can be run by a single person and is freshly stocked daily with little effort, with the rest of the tasks taken care of by the technical system of the franchise chain. BistroBox operates a total of 47 locations across Austria, with some of them located near service stations.
BistroBox are also marketing a 'Charging Lounge' offering the solution for e-charging parks. Customers can fortify themselves during the charging process with oven-fresh pizza, refreshing drinks, or an excellent coffee.
---
---