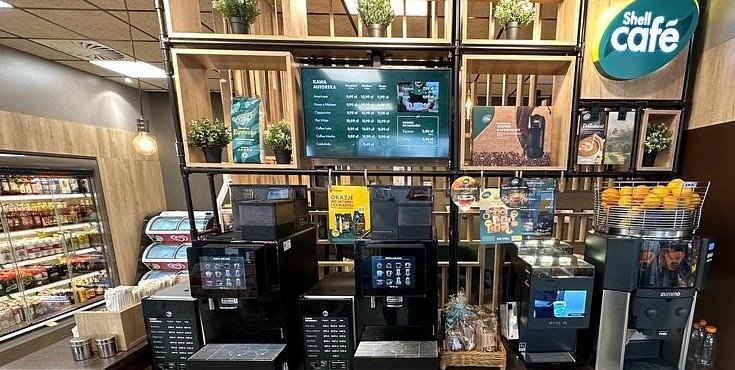 Shell has modernised a fuel station in Kracow, Poland, giving it a new premium look. An extended café and catering offer awaits customers, in addition to the standard products on the menu includes such items as fresh cakes, Neapolitan pizza or coffee straight from a professional espresso machine
The space of the station was designed on the model of the interior of the free-standing Shell Café at Karolkowa Street in Warsaw. The interior of the Krakow café combines a palette of modern colours with wooden elements.
This Shell Café concept offers a wide range of coffee and gastronomy. The main item in the menu of the new format is occupied by high-quality proprietary speciality coffee, which is distinguished by a very high score on a 100-point SCA (Special Coffee Association) scale.
New smart technologies in the café
As part of the modernization of the site, numerous technological novelties have been introduced, such as an automatic premium tea maker, a digital LCD price list or a modern line of refrigeration equipment, under which a new way of displaying frozen products is being tested.
"At Shell, we are not afraid to test new concepts and reach for innovative solutions. Since our Shell Café concept was very successful, we decided to test a completely new format at the Krakow station. The new layout of the sales room, refreshed café zone, expansion of the premium food and coffee offer are just a few of the changes we have introduced. Café employees also benefit from smart technologies to support them in their daily work. We hope that this test format will work fully and in the near future Shell Café premium cafes will appear more and more often at our stations" – says Marcin Jaczyński, Director of Non-Fuel Business at Shell Polska.
---
---