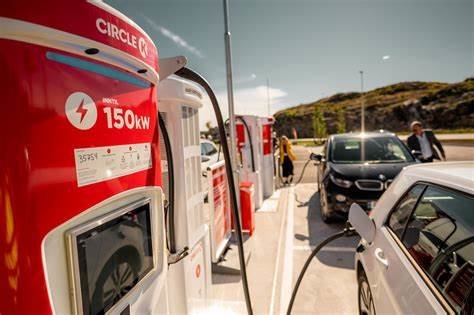 About 80 percent of new cars sold in Norway are battery-powered. As a result, the air is cleaner, the streets are quieter and the grid hasn't collapsed. But problems with unreliable chargers persist. What follows is an eye opening feature written by The New York Times
BAMBLE, Norway — About 110 miles south of Oslo, along a highway lined with pine and birch trees, a shiny fueling station offers a glimpse of a future where electric vehicles rule.
Chargers far outnumber gasoline pumps at the service area operated by Circle K, a retail chain that got its start in Texas. During summer weekends, when Oslo residents flee to country cottages, the line to recharge sometimes backs up down the off-ramp.
Marit Bergsland, who works at the store, has had to learn how to help frustrated customers connect to chargers in addition to her regular duties flipping burgers and ringing up purchases of salty licorice, a popular treat.
"Sometimes we have to give them a coffee to calm down," she said.
Last year, 80 percent of new-car sales in Norway were electric, putting the country at the vanguard of the shift to battery-powered mobility. It has also turned Norway into an observatory for figuring out what the electric vehicle revolution might mean for the environment, workers and life in general.
The country will end the sales of internal combustion engine cars in 2025.
Norway's experience suggests that electric vehicles bring benefits without the dire consequences predicted by some critics. There are problems, of course, including unreliable chargers and long waits during periods of high demand. Auto dealers and retailers have had to adapt.
The switch has completely changed the car industry, making Tesla the best-selling brand and marginalizing established carmakers like Renault and Fiat.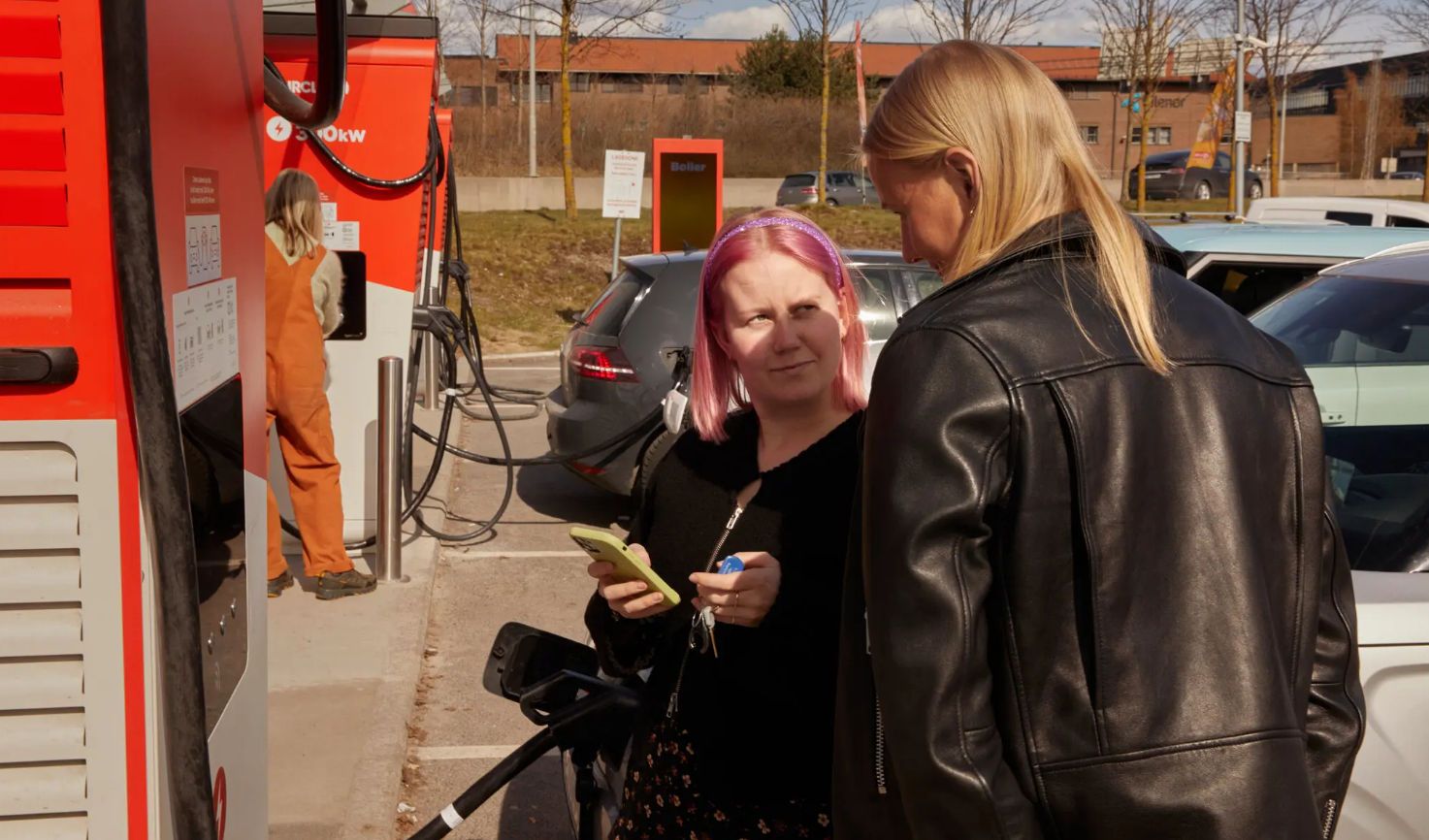 Circle K executive , Guro Stordal, has the difficult task of developing a charging infrastructure that works with all the different software used by all kinds of vehicles.
But the air in Oslo, Norway's capital, is measurably cleaner. The city is also quieter as noisier gasoline and diesel vehicles are scrapped. Oslo's greenhouse gas emissions have fallen 30 percent since 2009, yet there has not been mass unemployment among gas station workers and the electrical grid has not collapsed.
Some lawmakers and corporate executives portray the fight against climate change as requiring grim sacrifice. "With E.V.s, it's not like that," said Christina Bu, secretary general of the Norwegian E.V. Association, which represents owners. "It's actually something that people embrace."
Norway began promoting electric vehicles in the 1990s to support Think, a homegrown electric vehicle start-up that Ford Motor owned for a few years. Battery-powered vehicles were exempted from value-added and import taxes and from highway tolls.
The government also subsidized the construction of fast charging stations, crucial in a country nearly as big as California with just 5.5 million people. The combination of incentives and ubiquitous charging "took away all the friction factors," said Jim Rowan, the chief executive of Volvo Cars, based in neighbouring Sweden
The policies put Norway more than a decade ahead of the United States. The Biden administration aims for 50 percent of new-vehicle sales to be electric by 2030, a milestone Norway passed in 2019.
Levels of nitrogen oxides, byproducts of burning gasoline and diesel that cause smog, asthma and other ailments, have fallen sharply as electric vehicle ownership has risen. "We are on the verge of solving the NOx problem," said Tobias Wolf, Oslo's chief engineer for air quality, referring to nitrogen oxides.
Sirin Hellvin Stav, Oslo's vice mayor for environment and transport, said at the event that the city wants to install more public chargers but also reduce the number of cars by a third to make streets safer and free space for walking and cycling.
"The goal is to cut emissions, which is why E.V.s are so important, but also to make the city better to live in," Ms. Stav, a member of the Green Party, said in an interview later.
Electric vehicles are part of a broader plan by Oslo to reduce its carbon dioxide emissions to almost zero by 2030. All city buses will be electric by the end of the year.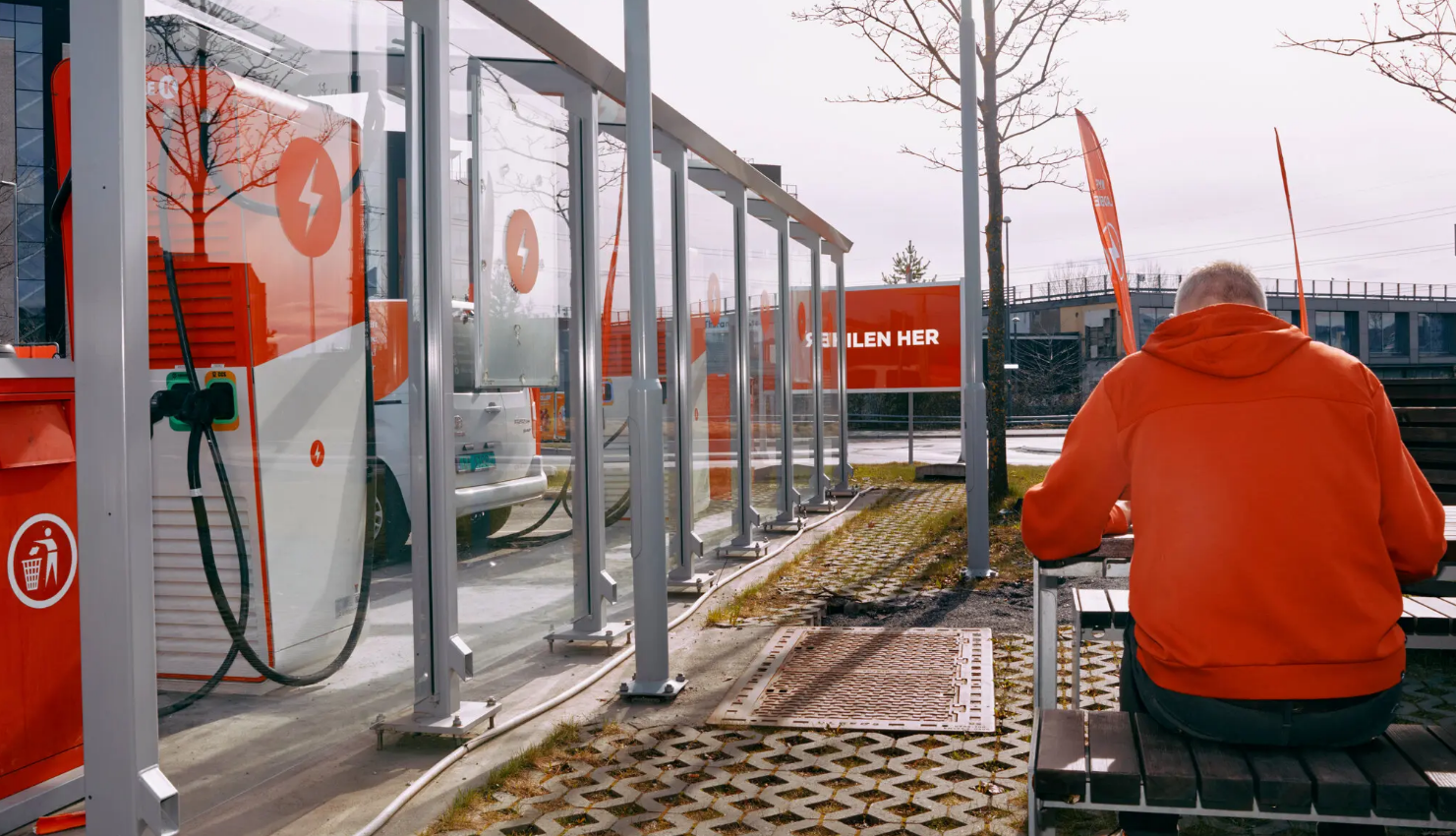 But Norway's government has not pulled back on oil and gas production. "We have several fields in production, or under development, providing energy security to Europe," Amund Vik, state secretary in the Norwegian Ministry of Petroleum and Energy, said in a statement.
Elsewhere, Norway's power grid has held up fine even with more demand for electricity. It helps that the country has abundant hydropower. Even so, electric vehicles have increased the demand for electricity modestly, according to calculations by the E.V. Association, and most owners are charging cars at night, when demand is lower and power is cheaper.
Elvia, which supplies electricity to Oslo and the surrounding area, has had to install new substations and transformers in some places, said Anne Nysæther, the company's managing director. But, she added, "we haven't seen any issue of the grid collapsing."
No rises in unemployment
Nor has there been a rise in unemployment among auto mechanics. Electric vehicles don't need oil changes and require less maintenance than gasoline cars, but they still break down. And there are plenty of gasoline cars that will need maintenance for years.
Sindre Dranberg, who has worked at a Volkswagen dealership in Oslo since the 1980s, underwent training to service electric-vehicle batteries. Was it difficult to make the switch? "No," he said, as he replaced defective cells in a Volkswagen e-Golf.
Electric vehicles are creating jobs in other industries. In Fredrikstad, 55 miles south of Oslo, a former steel plant has become a battery recycling center. Workers, including some who worked at the steel plant, dismantle battery packs. A machine then shreds the packs to separate plastic, aluminum and copper from a black mass that contains crucial ingredients such as lithium, nickel, cobalt, manganese and graphite.
The factory, owned by Hydrovolt, is the first of several the company plans to build in Europe and the United States. So far, there is not much to recycle, but eventually recycled batteries could greatly reduce the need for mining.
"If we can take the active material that already is within the product and create new ones, then we create a shortcut," said Peter Qvarfordt, the chief executive of Hydrovolt, a joint venture of the aluminum producer Norsk Hydro and Northvolt, a battery maker.
If anyone has to worry about their jobs, it's car dealers. The almost complete disappearance of gasoline and diesel vehicles from showrooms has reordered the industry.
The Moller Mobility Group has long been Norway's biggest auto retailer, with sales last year of $3.7 billion and dealerships in Sweden and the Baltic countries. Moller's Oslo outlet is filled with electric Volkswagens like the ID.4 and the ID.Buzz. There are only a few internal combustion cars.
Yet, Tesla is greatly outselling Volkswagen in Norway, grabbing 30 percent of the market compared to 19 percent for Volkswagen and its Skoda and Audi brands, according to the Road Information Council.
Sales of electric cars from Chinese companies like BYD and Xpeng are also growing. If that pattern repeats itself elsewhere in Europe and in the United States, some established carmakers might not survive,
Electric vehicles are part of a broader plan by Oslo to reduce its carbon dioxide emissions to almost zero by 2030.Credit...David B. Torch for The New York Times
Petter Hellman, the chief executive of Moller Mobility, predicted that traditional brands would regain ground because customers trust them and they have extensive service networks. "But clearly," he added, "Tesla has shaken the industry."
Circle K, which bought gas stations that had belonged to a Norwegian government-owned oil company, is using the country to learn how to serve electric car owners in the United States and Europe. The chain, now owned by Alimentation Couche-Tard, a company based near Montreal, has more than 9,000 stores in North America.
Guro Stordal, a Circle K executive, has the difficult task of developing charging infrastructure that works with dozens of vehicle brands, each with its own software.
Electric vehicle owners tend to spend more time at Circle K because charging takes longer than filling a gasoline tank. That's good for food sales. But gasoline remains an important source of revenue.
"We do see it as an opportunity," Hakon Stiksrud, Circle K's head of global e-mobility, said of electric vehicles. "But if we are not capable of grasping those opportunities, it quickly becomes a threat."
---
---