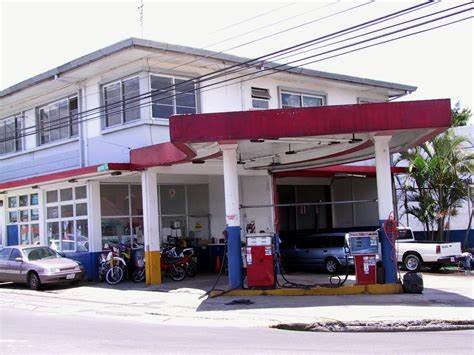 Sue De Cesare joins erpecnewslive.com this month as a staff writer having recently returned from a break in Costa Rica. She has had a chequered career working in the media, events and entertainment sectors. Not wanting to miss an opportunity I asked her to write a brief article on how the retail fuel market looks in CR. Ed.
Blanketed in pristine rainforest, lined by golden sands, and brimming with curious-looking creatures, Costa Rica is stacked with jungles and volcanic wonders in every way possible, where you can soar on a zip line, ride on horseback, hike misty trails or if you prefer, take in the Gold coast of the Pacific Ocean.
In February this year, I spent 3 weeks there and If you have too and also driven, you will know that both roads and drivers present a challenge. Sizeable pot holes, tailgating and countless slow lorries with little room to overtake! Not surprisingly, it's rare to see shiny new sports or super expensive cars, other than those driven by tourists who had failed to read the guide 'it is essential to hire a 4 x 4'.
The common mode of transport is the Toyota Hilux pickup, mostly because they are durable, reliable and versatile making them suitable for the rough terrain and agricultural activities. Many of those we saw were bashed up as the drivers have little fear in sitting on your tail and overtaking even when it's impossible to see oncoming traffic.
Service stations are not so easy to find in the mountains
We rented a Toyota Rush 4x4, which was super comfortable and drove a total distance 841 km, but after driving for 90 minutes with only half a tank of petrol, I wanted to fill up before heading to higher terrain in case I couldn't find a station.
I must say it was lovely to turn up at a fuel station and not have to get out of my car! The forecourt in the photo above was typical of the kind of service station found there. It was 34 degrees outside and I simply wound down the window, let the station attendant know how much I wanted to spend and then paid by card, all from the comfort of my seat.
I felt the stress from the crazy driving melt away. The attendants were quick and also very kindly wiped all the dead insects off my windscreen and wing mirrors.
It made me think about my experience at home in the UK: queuing, getting out in all weathers, waiting for the tank to fill up, inhaling fumes and sometimes, if I'm a bit remiss, replacing the pump and having smelly petrol hands. None of that here in Costa Rica where all petrol stations are manned by attendants.
So who controls the retail fuel market in Costa Rica?
As Costa Rica is a country heavily reliant on road transportation, major gas chains dominate the major cities and highways. They are: Puma Energy, Total, Refinadora Costarricense de Petróleo (RECOPE), Terpel, Esso and Texaco.
Petróleos Delta which owns 182 gas stations in neighbouring Panama has slowly been getting a foothold there after Royal Dutch Shell Plc sold all their outlets to them in 2010 and in 2017 Total sold them 19 outlets bringing their total to 52 major sites.
But unlike most countries who compete for customers on the sale of fuel, in Costa Rica it is enshrined in law that all stations are required to charge the same price and they are regulated by the government. You can pay in local currently Colon or in dollars but in most cases, it is cheaper to pay in local currency although the exchange rate here changes significantly on a daily basis.
A Snickers bar for £4.50.
Without competition on the price of fuel, stations find ways to differentiate by offering additional services like repair shops, car washes etc and convenient stores and even though it was boiling hot outside, we did pop into a few convenient stores and use their super clean toilets.
It was great to be able to buy cold bottles of water and delicious local and inexpensive food (apart from the Snickers my son bought for £4.50!). If there's one thing which left an impression on me, it was the welcoming nature and the kindness we experienced both at the pump and in the stores on site.
And we all like a bit of that don't we, wherever we are. Ed.
---
---