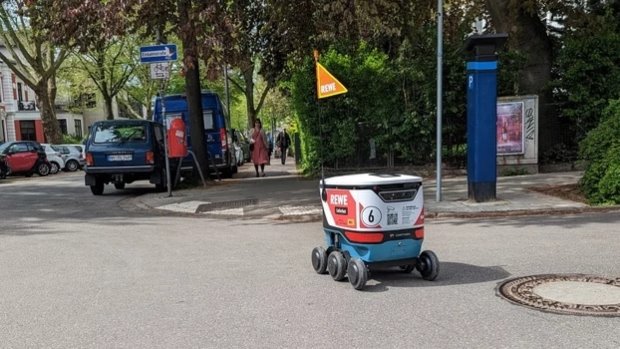 The German convenience retailer has launched a 3-month trial of autonomous delivery robots in Hamburg alongside startup Cartken. Doorstep delivery in under two hours, in the borough of Eimsbüttel, Germany.
In cooperation with TÜV Süd, the city of Hamburg, and the startups "Cartken" and "LastMile", the retailer is testing - initially for three months - the use of up to three autonomous delivery vehicles.
After customers order from home via the "Last Mile" app, the desired goods are assembled at the store and sent on their way within two hours by a drone controlled by artificial intelligence.
The "REWE delivery bot" drives through the streets accompanied by a technical supervisor. When it arrives at the door of the customer's house, the customer picks up the goods directly from the robot by entering a previously received code.
The movement radius of the robots, which weigh around 35 kilograms and have the size of a beer crate, is 3 kilometers. The vehicles maneuver along the sidewalk at less than six kilometers per hour and can bring 360-degree cameras and artificial intelligence to ensure that no accidents occur.
The REWE robots have a maximum payload of 14 kilograms. Once the order has been received digitally, it is picked at the REWE store and sent on its way.
---
---