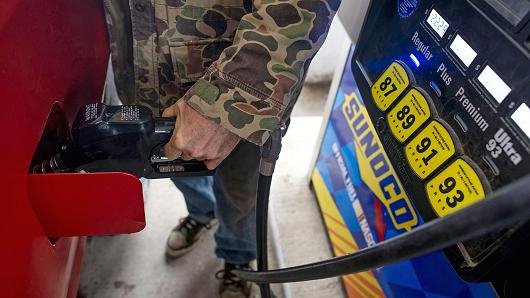 After Oregon lawmakers overturned a ban on self-serve gas, New Jersey alone insists that only gas station attendants can fill tanks up.
Since 1951, Oregon has banned drivers from filling up their own vehicles. Instead, they've had to wait while attendants ask how much gas they should pump, drum their fingers on the roofs of the cars, and run to the till indoors to make change.
Last week, though, Oregon lawmakers voted to overturn this 72-year-ban, allowing the self-service of "Class 1 flammable liquids at fuel stations. Every other state, apart from one, have already authorized self-serve, which makes New Jersey the last remaining holdout mandating that only gas station attendants can stick nozzles into tanks and pull their triggers.
At least half of all gas station pumps in Oregon will now allow self-serve—a change that gas companies have been pushing for, amid a widespread shortage of labour. Half the pumps in Oregon are closed, a spokesperson for the Northwest Grocery Association said earlier this year, because there are no attendants to staff them.
The US history of self-serve gasoline
The first self-serve gas station opened in Los Angeles in 1947, with young women on roller skates zooming around to collect money and manually reset the pumps. But this facility was slow to expand, in part because states had fire codes that allowed only employees to handle flammable liquids like gasoline.
State laws started to change over the following decades; as early as 1967, for instance, the New York Supreme Court ruled that local bans on self-serve were illegal.
But companies didn't hurry to follow suit. "The idea was so foreign to the established line of thinking that some convenience store owners thought it was ridiculous, that no one would want to pump their own gas," Fred Lowder, the co-owner of the Jiffy convenience store chain, told NACS, a trade association dedicated to convenience and fuel retail.
As card readers began to be installed at pumps in the 1980s, the popularity of self-service rose. Motorists and service station chains alike realized that gas could be cheaper if it didn't have to include the cost of labour.
But New Jersey and Oregon held fast. In New Jersey, a 1949 law called the Retail Gasoline Dispensing Safety Act remains in effect to this day. Last year, as gas prices rose, an industry-backed campaign group called Fuel Your Way NJ tried to repeal the law at least in part by allowing gas stations with three or fewer pumps to be self-serve facilities.
But New Jersey lawmakers opposed the move across party lines. They cited survey data, including a Fairleigh University poll from 2012 (pdf), which showed that the majority of voters want attendants at their gas stations.
Phil Murphy, New Jersey's Democratic governor, refused to be drawn into a debate over self-service, even if it helped bring pump prices down. "Listen, on self-service gas, that's been sort of a political third rail... which I have historically not crossed," Murphy said during a press conference.
But like Oregon, New Jersey too may eventually have to face the stark facts: There just aren't enough people willing to work for gas station wages any more.
---
---