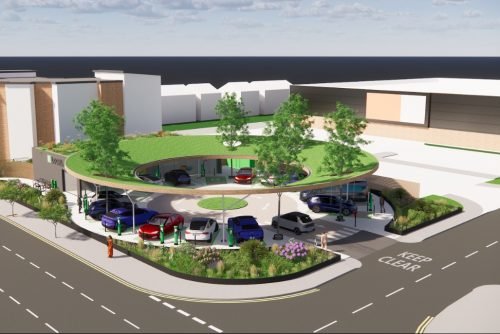 In the UK, Manchester's first large scale green charging 'oasis' for electric vehicles (EV) has been approved by the city council.
EV charging specialist, Be.EV, will transform a former petrol station site on the corner of Reliance Street and Oldham Road into a futuristic green forecourt and community hub.
The site will include commercial space for local businesses and provide ultra-rapid charging for 16 electric vehicles at any time, including accessible and van-suitable spaces, as well as secure charging for electric bicycles.
The site's 16 ultra-rapid chargers will charge a typical EV in as little as 10 minutes, compared with 4-6 hours on a 7kW fast charger.
Be.EV maintains the largest network of public EV chargers in Greater Manchester and Reliance Street marks the company's first new generation 'Oasis' project, with further locations planned across the country.
Trees and biodiversity will form an integral part of the site's design. A wildflower garden will form a natural boundary along one side of the site. Other planted areas throughout will include herbaceous perennials, shrubs and grasses. The site has committed to a 'net-biodiversity uplift', to bring nature back into the area.
Solar panels will be included to further improve the carbon footprint of the development, by providing clean energy for the operation of the commercial space. The retail building and forecourt roof will feature a biodiverse planting of native British species, specifically selected for the region.
Mature trees will surround the charging ring and dominate the design, bringing with them further animal and birdlife to the site.
The chargers will be powered by renewable energy from Octopus Energy, ensuring the move to a totally green transport system is achieved.
---
---