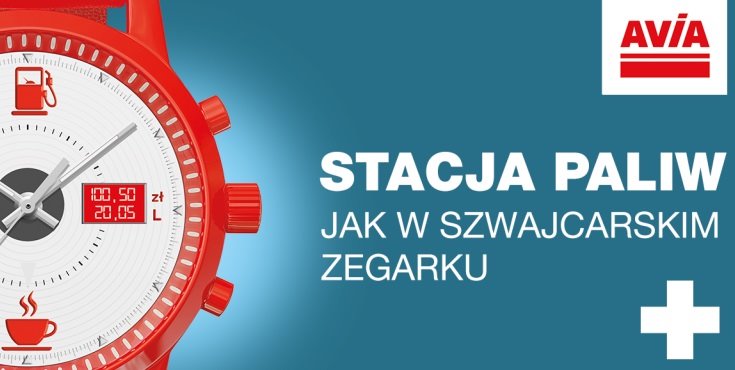 Like a Swiss watch – this is the latest slogan promoting the Avia station network in Poland, managed by the Unimot Group. The aim of the image campaign is to highlight a competitive offer from the Avia station network, both in terms of fuel prices and the quality of products and services.
The slogan "Like a Swiss watch" refers to the values most often associated with one of the flagship Swiss products – the watch – and therefore the incredible precision and accuracy attributed to the movements coming from the hands of Swiss watchmakers.
Thus, the Avia chain in Poland emphasizes that an inseparable feature of the services offered by the stations of this brand is attention to every detail. The Eat&Go concept fits into this idea, providing the station's customers with aromatic coffee, as well as a shop zone refined in terms of design and ergonomics.
As in the case of previous campaigns, this one also focuses on the Swiss roots of the Avia brand, while constantly emphasizing the high quality of standards introduced at our Avia stations in Poland.
The latest edition is based on extremely popular associations with reliable, made of the best materials, elegant and at the same time functional Swiss watches. Thus, the Avia brand offers its customers a convenient, comfortable, but also aesthetically refined Eat&Go shopping zone, high quality fuels, a wide range of products and numerous price promotions – says Robert Nowek, Managing Director of the Avia chain in Poland and Ukraine, Unimot Group.
Swiss style, known as Swiss Design, is an inseparable element of Avia's image communication. This time, the slogan of the campaign also refers to the cultural heritage, i.e. the product for which Switzerland is famous, which in Polish was reflected in a popular saying that carries universal values such as reliability and extraordinary precision.
---
---