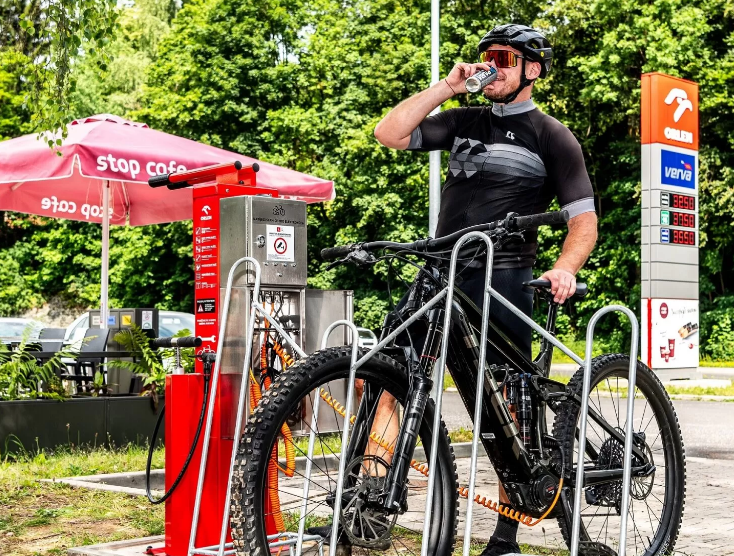 Retail fuel group Orlen Benzina has added bicycle stands along with service points at 35 of its petrol stations. In ten locations, there are also charging stations for electric bikes.
Zbigniew Leszczyński, a member of the board of the Orlen Unipetrol group responsible for retail said "We understood that many of our customers are active cycling enthusiasts. Therefore, we supported the idea of our colleagues to create shelters with necessary equipment for basic maintenance and servicing of bicycles at selected Orlen Benzina petrol stations".
People cycling can find these service stands at 35 Benzina petrol stations, currently only in touristically attractive areas close to cycling routes throughout the Czech Republic.
The bicycle stands are equipped with tools from German and American manufacturers, allowing for all necessary basic servicing tasks. The set includes a flat-head screwdriver, a set of Allen keys, a flat and adjustable wrench, three tire levers, and a manual pump. For less experienced individuals, there is a QR code placed on the stand, which, when scanned with a smartphone, provides a clear and easily understandable guide for bike repairs and adjustments.
The service stands at Benzina petrol stations can be used not only by cyclists for their bicycles but also by the general public for children's strollers or wheelchairs. The project is part of the petrol station modernization program, which also includes new infrastructure for hydrogen and electric vehicles.
---
---