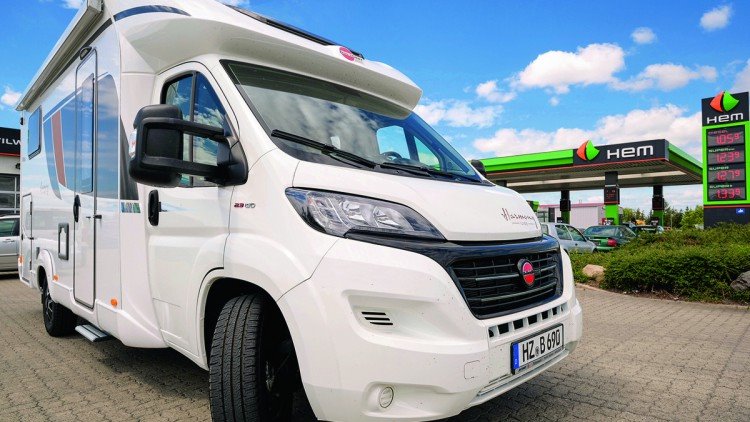 Motor-homing and caravanning business is booming. Some fuel stations in Europe are riding this wave of success with a motorhome rental company. How is the additional business going, what do you have to consider?
Corona has brought record numbers to the motorhome market - and the joy of Germans in traveling with motorhomes and caravans continued even when the borders had long since reopened for more distant journeys and restrictions had been lifted:
Around 20 million people in this Germany were interested in the topic of caravanning in 2022, as the management consultancy gsr has determined with the market research institute Miios - and one in two of them were interested in renting a mobile home for a limited period of time.
The Caravanning Industry Association (CIVD) also reported at the beginning of the year that around 202,291 motorhomes and caravans were newly registered in Germany in 000 – the third-highest result in the industry's history. The two frontrunner years were, of course, 2020 and 2021. In the eyes of the CIVD, the decline is mainly due to supply problems.
According to the "Focus Caravaning Business Report 2023" by gsr and Miios, the caravanning trade is gradually adjusting to a slight slowdown after years of growth - but still at a high level: The authors of the study estimate the market volume for the caravanning market in Germany at around 15.5 billion euros.
Growing rental fleet in the Ruhr area
No wonder that some petrol station operators also come up with the idea of grabbing a piece of this cake with a motorhome or caravan rental. Björn Klein, for example, who has been working in the petrol station business in the Ruhr area for 18 years. The 47-year-old entrepreneur with five Shell stations in Dinslaken and Oberhausen and 60 employees started his motorhome rental business back in 2018 and thus before Corona.
Klein is a passionate camper himself. Five years ago, he decided to do better than some other providers, especially since Klein already had experience with renting trailers and sprinters. He drove to the Caravan Salon in Düsseldorf and ordered vehicles without further ado. "Blue-eyed," as he says in retrospect. But apparently also with the right instincts: "I started with a motorhome, the following year I had three, then five vehicles – now there are six leased motorhomes," says the father of two. He is now concentrating on the seasonal business from March to October. The vehicles are insured with Generali through a fleet contract that enables self-drive rental insurance.
Calculation over the entire holding period
If you refuel at one of Klein's BK stations, you can find out about the motorhome service on flyers. Klein is also present on banners, online camper exchanges and its own website. During Corona, he also lent out his vehicles in the evening: for "outdoor dinners", which at that time made it possible to visit a restaurant. Today, it rents out from a few days at 300 free kilometers per day, during the holidays from one week - then without kilometer limit.
Klein usually takes care of the vehicle distribution himself. "The vehicles are user-friendly and quickly explained," he says. On the road, rental customers can reach Klein around the clock in case of emergencies. When the vehicles return, he checks the car for damage, just like in a classic vehicle rental. "So far, fortunately, only small things have been broken – a handle, the tap," says Klein. For such cases, he has a warehouse with spare parts, and if necessary, his network of other petrol station operators who also rent out motorhomes can also help out. "Cleanliness is the most important thing," he emphasizes. With its own vehicle detailing, Klein is well positioned in this respect.
He is satisfied with sales, even in the post-Corona era. In the first year, however, you don't earn yet, Klein points out. "A motorhome costs around 9,000 euros a year, including leasing rates, insurance, maintenance and costs for cleaning staff," he calculates. "So you have to generate at least 10,000 euros a year and calculate the necessary utilization of the vehicles over the holding period – in my case, four years. In addition, there is the proceeds from the sale of the vehicle if you replace and sell it at the end of the leasing period."
Craftsmen, couples and families with dogs
Occasionally, craftsmen ask Klein for the motorhomes, 90 percent of his rental customers are families and couples - often with a dog on board, for which a special dog crate is available. The majority are walk-in customers, but now many repeat offenders also book with Klein. He is happy about this, because with experienced customers, processing is easier for him.
Compared to classic rentals, Klein recognizes several advantages for his rental customers: "My vehicles are fully equipped with table, chairs and crockery. In addition, my customers can drop off the vehicle every day, not just on weekdays – because my gas station is always open." And since you have to return rented vehicles with a full tank of fuel, your customers can refuel directly at your station when you drop them off. By the way, Klein's customers benefit from the fact that he is a camper himself. He is happy to give tips and, in return, is happy to receive photos that his customers send him while they are on the road.
During the conversation, you quickly realize that the motorhome business is simply fun for Klein. "I like to do it, I have to deal with people in a holiday mood and it's a nice extra income," he explains. He considers the effort to be low in the seasonal months, allows an hour for the handover after his office hours, but also admits that at certain holiday times the days can sometimes get longer if the rental guests are stuck in traffic jams, for example. And the overall picture sometimes includes trouble with customers, but that only happens to a few.
Takeover of an insolvency company
But you don't have to be a convinced camper to successfully enter the motorhome rental business as a petrol station operator. Julia Eitze-Klapproth is the best example: She is the second generation to run Bistro 79, a family business that includes an HEM petrol station and bistro in Dardesheim in the Harz district in Saxony-Anhalt.
With the takeover of the company in March 2020, she entered the motorhome business - although she had no contact with the topic of caravanning until then. Eitze-Klapproth was asked if she wanted to open a motorhome rental company that had filed for bankruptcy. Her decision was made quickly: "I'm always up for innovation," says Eitze-Klapproth. "As an owner, I can of course make such a decision more easily than a leased petrol station."
It started in the Corona year 2020 with a vehicle. However, after the motorhome was booked directly throughout the summer, others followed. Today, Eitze-Klapproth offers three motorhomes all year round, and a fourth will be added in autumn. The fully equipped vehicles – with accessories ranging from knives to cable reels – are located at the 24-hour station in Dardesheim. She advertises her motorhome offer through newspaper advertisements, social media, flyers and a website. Eitze-Klapproth finances the winter-proof vehicles and plans for a holding period of three to six years. Customers can book for a minimum period of one week, 250 kilometers per day are free.
"Good but tough additional business"
"It's a good business, but it's also a tough one. I attach great importance to cleanliness, so six hours per vehicle for complete cleaning, including disinfection, is normal," Eitze-Klapproth sums up after the first three years. The handover of the vehicles is usually done by the entrepreneur herself, as well as the return, whereby the customers can park the vehicle at the petrol station at any time. She can also be reached via a 24-hour hotline in case of emergencies and is happy to receive one or two videos or photos of her customers from their holidays. "So I always travel a little bit virtually," she says happily.
Eitze-Klapproth continues to increase its fleet, so the business is worth it. Still. "Let's see how long the caravanning trend lasts, especially as vehicles are becoming more and more expensive," she points out. For a motorhome of good medium standard, as Eitze-Klapproth orders, she gives gross costs of 85,000 euros.
Occasional damage increases the time and financial expenditure if the workshop, appraiser and insurance company have to be involved. "In addition, some parts are hardly available at the moment," she adds a challenge. Nevertheless, her conclusion is: "The motorhome business is fun, even if it is exhausting – especially in summer. You get to know nice people and see 99.5 percent satisfied faces. Most of them are renting again."
One acquaintance caused a particularly great joy, especially for her husband, who is a big Lindenstrasse fan: Because even a German actress who played in the popular ARD series for a long time has already booked a vehicle with Eitze-Klapproth.
Klein had already been a camper before, but his enthusiasm for camping at Eitze-Klapproth only came from the rental business. The 18-year-old daughter prefers to stay at home, but now she spends a long weekend or a short holiday week in one of her motorhomes with her husband and nine-year-old son more often. So she became one of the 20 million people interested in caravanning due to her job
---
---