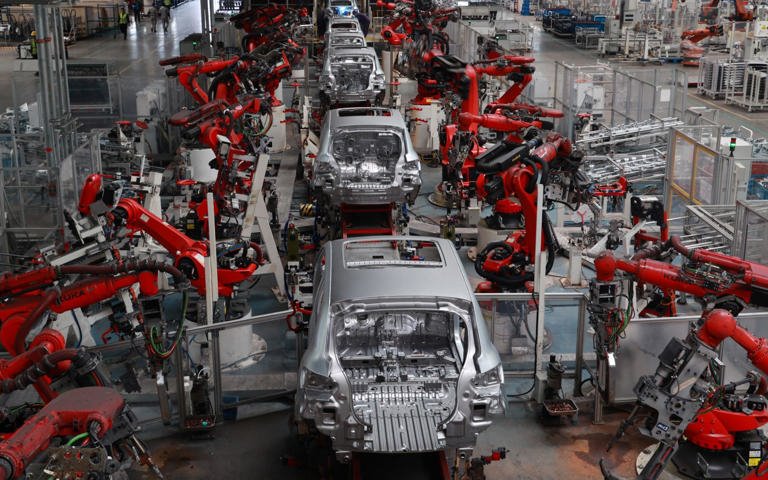 A coming influx of Chinese electric cars represents a security risk as they could be remotely controlled to "paralyse" European markets, according to the head of the industry's UK professional body.
countries face "major security issues" from Chinese cars, warned Professor Jim Saker, President of the Institute of the Motor Industry.
In a report due to be shared with car makers and regulators, Prof Saker said there was "no way" of stopping Chinese cars coming under remote control.
He said: "The car manufacturer may be in Shanghai and could stop 100,000 to 300,000 cars across Europe thus paralysing a country."
While regulators can test samples of cars for spyware or other security vulnerabilities, testing thousands of vehicles is not feasible, he said.
A similar frailty of testing samples allowed Volkswagen to cheat emissions tests ahead of the Dieselgate scandal.
Up to 30 new electric vehicle brands are eyeing up the UK car market, most of them Chinese.
Companies like BYD and Ora, which already have agreements in place with car dealers, will be joined by a raft of other car makers including Chery, Dongfeng and Haval.
The Chinese Communist Party aims to create a significant export industry. The boss of Vauxhall-owner Stellantis last week warned of an "invasion" of Chinese electric cars.
Carlos Tavares said Stellantis faces a "brutal scenario" where it must compete with Chinese-made cars which are a quarter less expensive while having to invest billions into electrification.
Prof Saker, who also leads the Centre for Automotive Management at Loughborough University in the UK, pointed to a report published earlier this month, which warned that China has successfully penetrated every sector of the British economy.
The Government has been slow to wake up to the threat posed, the MPs said.
Parliament's intelligence and security committee said in a report that the communist country's ambition to become an economic superpower presented the "greatest risk" to the UK.
It said China's state intelligence apparatus was "targeting" Britain and its interests "prolifically and aggressively" and was seeking to control key industrial and civil nuclear energy assets.
Chinese car makers have better access to the crucial battery technology needed for electric vehicles (EVs), allowing them to bring vehicles to market faster.
Many Chinese manufacturers have access to batteries through deals with Contemporary Amperex Technology Co, or CATL, the biggest supplier of lithium batteries for cars.
China is also dominant in lithium production and refining, as it owns many of the mines which produce it.
The country controls about nine tenths of the world's lithium hydroxide supply.
Mr Saker said the UK has sat on its hands over the threat of China weaponising its dominance in the market for key minerals like lithium.
He said: "Virtually every country is trying to fight against an overreliance on China, except the UK.
"Indeed, the UK Government only set up its own Critical Minerals Intelligence Centre in July 2022, far too late to have any impact in what should have been a long-term strategy."
Britain should focus instead on hydrogen, since the technology does not require minerals like lithium to be imported from abroad and instead plays on advantages the nation already has, such as the potential for cheap wind power which can be used to make the gas cleanly, he added, providing an export opportunity.
---
---