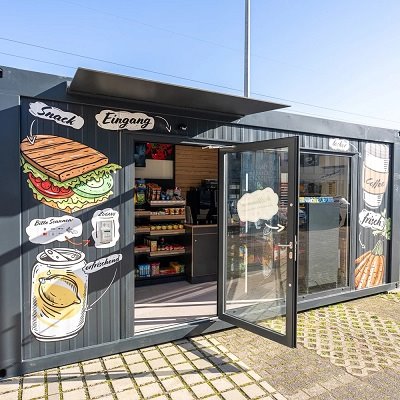 Smart Store is one of the projects of the German MCS (Mein Convenience Service), which supplies goods to thousands of small shops, including petrol station shops.
Container pilot project stands on the premises of Markant in Offenburg, is open nonstop and is primarily focused on Company employees and external customers from the immediate neighbourhood.
One of the main problems of contemporary retail is the lack of personnel and skilled workers. One solution is making the most of digital technologies and artificial intelligence. This gives rise to the concepts of unmanned shops and various technical Solutions - from digital receipts and digital price tags to robots.
An interesting service is offered, for example, by the bistro of a German petrol station Team Energy from Flensburg-Peelwatt, where you can order directly from the dining area via mobile phone using a QR code.
Food and drinks will then be brought to you by the Botty service robot directly to your table. Trades that They don't need shop assistants or cashiers.
Smart shops are already a widespread concept in Europe food retail networks typically offered by local supplier assortment of several hundred items. They work on the principle of self-service, without a shop assistant, as well as with automatic access or by payment, usually by mobile phone through an app.
Smart digital technologies of all kinds are combined with ideas here and concepts from vending. Such solutions or integration of new technologies can help save time and money for operators, as well as how to relieve employees and at the same time meet customer requirements for example, for longer opening hours or more comfortable shopping.
If the customer buys in a place where the seller is missing, Of course, this also brings problems. One of the first to you will surely think of the possibility of easier fraud or directly theft, which of course can be solved by installing smart cameras and Alarms.
Another complication is the offer of goods that the customer does not know about and without the incentive of the salesman probably will not buy it. And the third problem is the logistics of replenishment of goods and their storage. Experience However, such sales are increasing and artificial intelligence for The operation of unmanned shops is already quite mature.
Shop in a container
Pilot project of smart shop in the Markant form area Offenburg runs together with Kesseböhmer and interns and DHBW students who are responsible for operational support, marketing and goods management. The aim of the project is to test different processes and use various technologies in everyday business.
At the same time, they are within category management analised various products and assortments that It targets specific customer groups.
Kesseböhmer offers its own solutions for smart shops with a range of modules that can be combined. These include check-in without Application with payment card, goods scanner and self-service cash register. These devices are part of a single container that makes up the entire shop like you can visit in Offenburg. Similar Kesseböhmer has containers at four locations in Germany.
However, there are also many other projects and concepts in Germany this form of retail. At present, you would find almost eight dozens of different variants of smart stores that work according to Walk-in menu or as automated boxes. Some of both They combine these formats.
This was also helped by the years when the company She was battling the COVID-19 virus. For the success of such a business is Decisive logistical control, location and well thought out assortment.
First in the Czech Republic
The first swallows can also be found in the Czech Republic. The Coop network of stores already Last year, it opened its first store in the historical center of Strakonice, in where people can shop 24 hours a day, seven days a week; although there will be no staff in it.
The shop operates during the day as a standard shop with service and staff. Unattended changes after opening hours. Customers can use the entire store except delicatessen and cold meat counters, which are replaced by an extended offer packaged goods in refrigerated boxes.
During the night mode, In addition, a shop accessible only to persons over 18 years of age to enjoy Minors could not buy alcohol because it remains part of it bids.
For purchases outside standard opening hours, customers need Payment card, bank identity and a special application on your mobile. Banking identity authentication was chosen by the creators of the system because It does not restrict customers too much and at the same time it is possible to control the age. In In the case of a mere payment card, it is not certain who has it himself.
Before the first visit, the applicant must download the mobile application Contio and register. To enter the store, he then uses a reader QR code in a mobile phone, which is touched to the sensor at the input Door. After scanning the QR code, the app opens the entrance door of the store and A verified customer can enter.
Everything continues to be the same as in the supermarket. Slowly You fill the basket with selected goods until you reach the self-service checkout. Here you scan the QR code again and then the individual items. Eventually you pay for the purchase by credit card or directly with the application on your mobile and to leave the store, scan the QR code again.
Safety for operators is solved by cameras inside the store and Verify your bank identity. The shop is connected to the central counter protection, which is activated every time the customer enters. In case Theft or disorderly conduct can be called by the system itself. Coop Of course, it also counts on a certain loss. From the experience of However, it is not much larger than other similar ones Systems.
It is also expected that the customer's phone will die. Even in this case, he should be helped by the central security desk, which The customer can be "released" remotely. In addition, there is an emergency at the entrance a button that can activate the system itself if necessary customer.
Coop wants MCS as well as German wholesaler test even a compact container for industrial areas or larger businesses, which, incidentally, would also be a solution for substitution shop at self-service petrol stations.
---
---