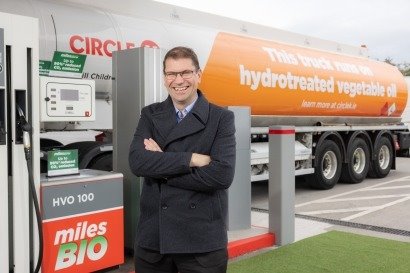 Circle K, has announced the opening of three new 'milesBIO HVO100' pumps in Ireland, following the launch of its first Hydrotreated Vegetable Oil (HVO) renewable diesel pump in Dublin Port at the end of 2022.
Jonathan Diver, pictured above, Fuels Director with Circle K Ireland commented, "At Circle K, we are committed to implementing environmentally sustainable practices across our product range and operations as well as supporting our customers to reduce their level of carbon emissions".
Circle K will continue to expand its HVO offering in the coming months, with a commitment to have HVO renewable diesel available on all national road routes before the end of 2023.
'milesBIO' HVO100 is a completely fossil-free biofuel made from waste, by-products and derived products not intended for human consumption from the food industry and can be used to power diesel vehicles. HVO alternative diesel offers an up to 90% reduction in carbon emissions over regular diesel.
While milesBIO HVO100 is new to Circle K Ireland, this renewable diesel has been available across Scandinavia at Circle K locations in Norway, Sweden and Denmark in recent years, which is helping to guide the introduction of the renewable diesel in Ireland.
This is just one of the ways Circle K is leading innovation within the fuel retail sector and supporting the Irish Government in its ambition to reduce transport carbon emissions by 50% by 2030.
---
---