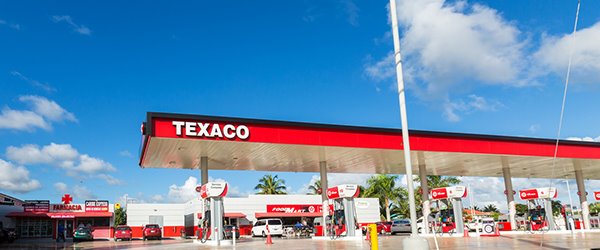 Chevron is giving Texaco-branded stations in the US a refresh. The first station with the updated design opened in Austin, Texas, last month.
According to a company press release, the remodels will focus on elevating the customer experience by updating "the core retail brand elements, including an evolved colour scheme that creates a lighter, brighter and more inviting space; 3-D canopy design; modern pole sign options to be more visible to drivers; noticeable pump flags; and emphasis on our industry-leading Texaco with Techron fuels."
"The Texaco brand has a long and proud legacy and we are excited to continue that history with this all-new retro-modern image at our stations," said Claudia Olvera Ibbott, fuels advertising manager. "Retailers and marketers can choose between our Standard and Flagship image tiers–each offers a more inviting look with eye-catching canopy elements, new POP placements, strategic Techron callouts and a brighter star for customers who rely on Texaco for reliable fuels."
By the end of 2026, Chevron intends to update all existing Texaco-branded stores and use the modern refresh on any new builds.
---
---