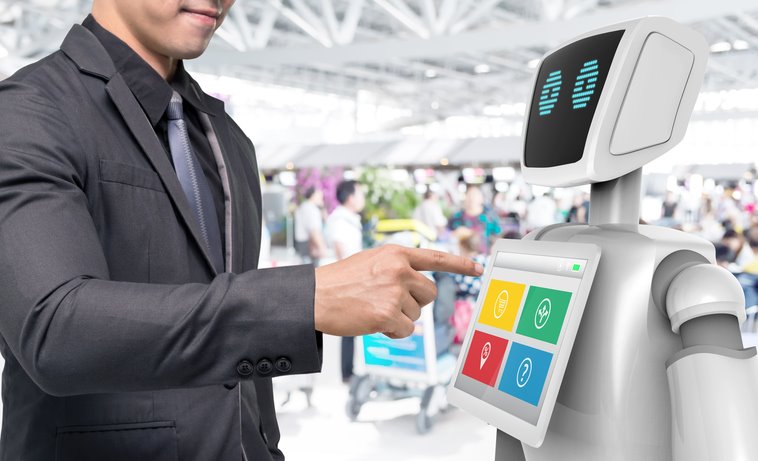 The unattended retail space is gaining popularity in today's economic climate. From automated kiosks to AI-powered "no checkout" stores, the industry is poised to grow to $46 billion by 2027.
Unattended retail options have been found to have a direct impact on customer satisfaction and ultimately lead to higher levels of profitability. In fact, research has shown that 40% of customers who value unattended shopping options would be willing to pay more for the experience.
With the continual rise of self-service technologies, companies must look for opportunities to provide a seamless user experience. One way to do this is through the use of robotic automation.
Enhancing the retail customer experience
A consistent labour shortage has led many companies to invest in new ways of completing daily tasks. In 2022 alone, North American companies ordered more than 44,100 robots, an 11% increase from the prior year.
Examples abound of how robotics have been used across retail and hospitality organizations. In the restaurant space, robots have helped to streamline food ordering and delivery. At retail giants like Target and Walmart, robotic automation is deployed in fulfillment centres to retrieve and distribute orders, and grocers are looking not just to self-check out options but utilizing bots to examine inventory and stock shelves.
Automated robotic solutions can boost productivity (one company saw an 80% efficiency increase in switching from manual fork lift trucks to automated cranes). They have also been found to enhance customer experience by providing easy access to available options and a streamlined store experience.
Advantages and challenges
There are numerous advantages to robotics in the retail environment. They have the ability to capture data about on-shelf products as well as customer buying habits. Companies can then utilize this data to enhance inventory management accuracy and keep valuable items in-stock, ultimately leading to heightened customer loyalty.
Robotics also have the potential to reduce labour costs, allowing companies to allocate staff to more strategic, higher-level tasks. At National Merchants Association, we recommend that companies identify the value-added aspects of their business and designate them to employees, then employ robots to handle more time-consuming, manual tasks such as stocking shelves. Not only will this increase productivity, but it will also free up valuable time to improve and expand your current business.
While there are numerous benefits to utilizing robotics in the retail space, there are also challenges. Robots collect large quantities of data, however, when not attached to a larger digital ecosystem, this information can be lost. Companies need to ensure the data scanned from their robotic systems is flowing into larger, mission-critical business systems, allowing them to utilize this data to drive strategic decisions. It's also essential that each robot can work seamlessly with other units to ensure a streamlined approach.
Further, your robotic technology must be able to collect secure payments. With more than half of the world's population choosing digital wallets by 2024, incorporating payment automation into the use of retail robotics is essential. Make sure transactions are fast and accurate without human interaction and that they integrate with your current autonomous robotic systems.
Finally, review your physical floor plan. When working with robots, ensure they are able to handle various obstacles and adjust accordingly. For instance, LOLA Matradee L is equipped with "advanced obstacle avoidance," which allows the unit to move around in-the-way objects.
The future of robotics in unattended retail
Ever since the pandemic, the need for self-service and unattended options has continued to rise.
Increasingly, companies are looking to autonomous options like AI-powered vending mechanisms and robotic restaurant servers to help drive efficiency and decrease costs.
In today's climate, where the challenges of a tight labour market, inflation and rising customer demand are not about to disappear, robots can help companies enhance their in-store shopping and dining experiences, providing modern solutions to address customer and organizational needs.
---
---